Not only have internships become the preferred solution worldwide to help graduates gain work experience, but they have also helped increase the chances of landing a permanent job once the internship is complete.
Jardine Kipkorir was a university student seeking an internship, Countless hours of searching, networking, and researching companies. What started in February as a six-month internship recently transformed into a full-time job – a job that came with thrilling opportunities for Jardine!
Take a sneak peek into the adventure Jardine embarked on six months ago when she joined Cellulant.
Tell us about yourself
A go-getter, resourceful and ambitious at the same time.
What do you do at Cellulant?
I am a Social Media Associate. Trusted with monitoring, executing and measuring the social media presence. At the heart of my role, there is the art of content creation. Content is the lifeblood of your social networks and what keeps your audience engaging and interacting with our brand.
Lastly, I Engage with our Cellulant audience by responding to any comments and queries. In other words, you can describe me as the 'voice of the company." These are just a few examples of tasks that I do. But, each day can be different, so keeping on top of your content calendar is crucial to online success.
Read Also;Edna Tembo Marketing Operations Executive making a difference in the digital payments space
What attracted you to cellulant
Needless to say, I was pretty stressed out. The giddiness of graduation was dampened by the pressure to quickly land a job. When I was not in class, I was relentlessly searching for entry-level roles and internships at organizations inside (and sometimes outside) of my field of interest.
When I read about the company's unique approach to customer service, the attraction was immediate. I was intrigued by the approach to employee wholeness and putting employee happiness first. Happy employees in turn provide better customer service, so it's a win-win.
That tactic is different, to be sure, and I love innovative approaches. Nonetheless, it has been a pleasure to be able to learn from the incredible Cellulant team.
What has made you stay in Cellulant?
My job is fun. How many jobs allow you to combine critical thinking, strategic analysis, and innovation? I get to ignite engagement and because of this, creativity and interaction are necessities.
I am fortunate to be working in an environment that encourages me as an individual and a professional. As I was approaching the end of my internship, I felt determined to extend my journey. I wanted to get out of my comfort zone and keep growing within a company that had taught and given me so much. I invested some time looking for opportunities that would suit my profile, and when I least expected it, I actually found a great one.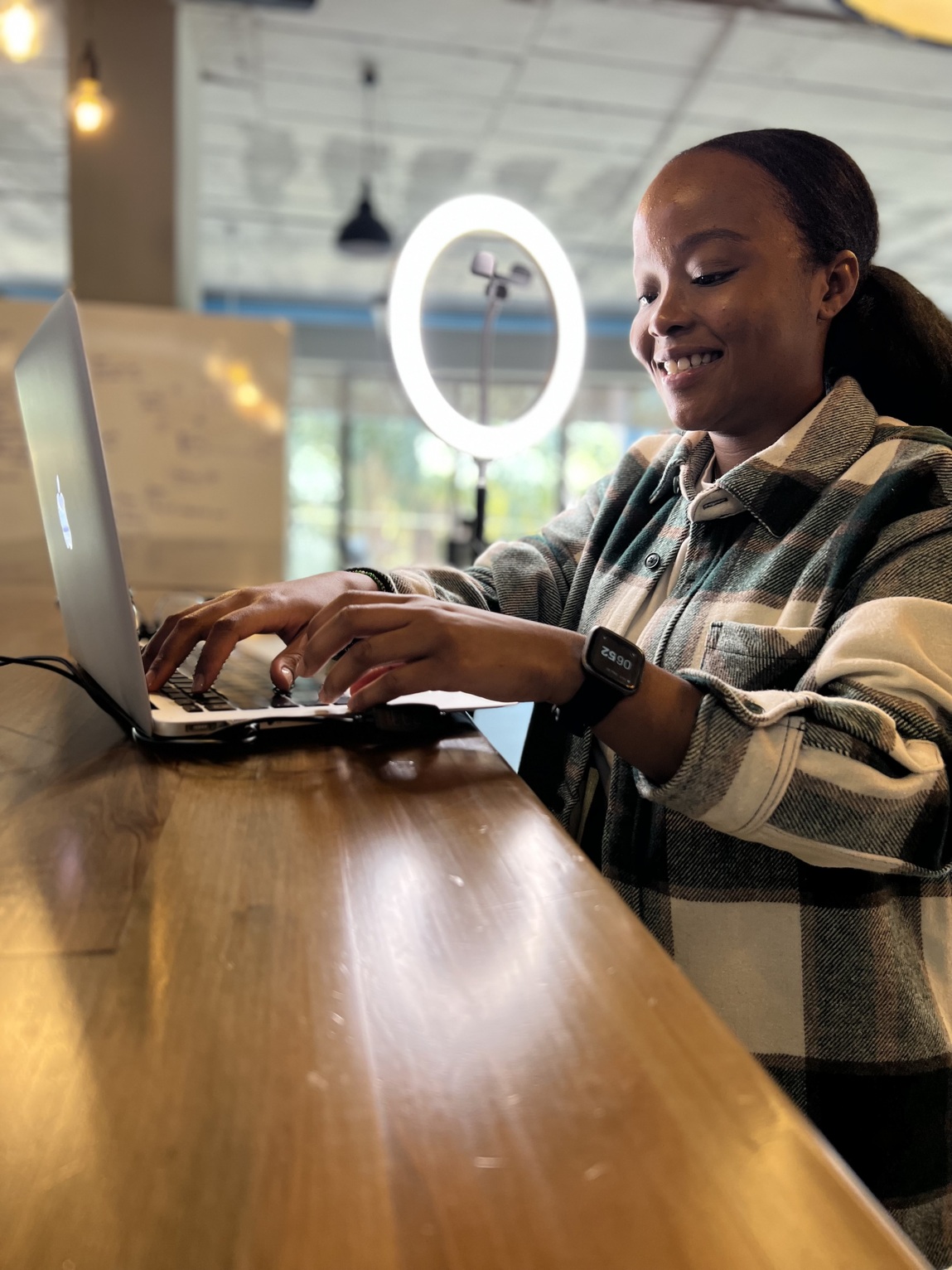 Which company value resonates with you and why?
Our company's culture is its personality. My go-to company value is 'Keep it simple, keep it connected'. There is beauty in simplicity. When we speak the same language, cut through the clutter and seek to understand, we reach our goals together.
What has been the greatest challenge/learning opportunity about the job?
I have never imagined that being an intern could be that fruitful. In short, thanks to Cellulant, I got the opportunity to meet executives, get my hands dirty with SEO, use Figma and have a taste of how design works, and of course, there are a lot more that we can talk about.
However, working in such a dynamic and fast-paced environment, I admit I sometimes do feel overwhelmed with this wide range of tasks. Perhaps my biggest challenge has to be the huge number of tasks every single day.
Who has been the biggest influence in your career & why?
I have absorbed a lot of information from my parents, and through them, I have grown into my own person. For better or worse, they have impacted the way that I make most of my decisions. For the rest of my life, I will continue to develop my mind and thoughts, expanding on what I have learned from my parents.
Read Also; Driving Africa's Payments Transformation Through Partnerships
How do you want to be remembered?
This is the One Question That Should Guide Your Daily Life. Do a good job to make your supervisors remember you. I would like to be remembered as a creative just trying to do good things, a caring person, who helps anyone who needs my help, and spread love. Haha.
What achievement are you most proud of?
I am happy to say that, a few days after the end of my internship I joined the Corporate Communications team as a Social Media Associate.Social media has enabled me to build a career that is centred around people and telling stories that impact them. That had to be one of the best achievements.
Describe Cellulant in one sentence.
Cellulant is a place to find engineers, visionaries, number crunchers, and relationship builders and where opportunities to shine happen daily.
---
To learn more about Cellulant visit our website, LinkedIn, Facebook, Twitter or Instagram.